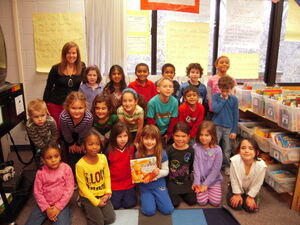 The adventures of Mrs. Hammerick's Class and Felix

Edit
Mrs. Hammerick's 1st Grade class at Doherty Elementary School in Michigan is doing a year-long project based on the book Letters From Felix. It is about a little girl who loses her stuffed animal bunny on a vacation. The bunny proceeds to send the little girl letters from all the fun places he has traveled to on his way home to see her. All of the kids in Mrs. Hammerick's class have decorated their own Felix and are sending him to friends and family who can help take Felix on adventures and write a letter to the class and take a photo or two about the adventure. This wiki will help the students chart Felix's adventures and see how many states and countries he has traveled to.
Meet Felix from Jaycee
Edit
Hi!
My name is Felix and I am a friend of Jaycee's. I am trying to help her and her classmates learn all about the different places in the United States and the world. I would love it if during my visit you could take me to some of your favorite places and show me the sites of your town or wherever your travels take us. During my visit, I would appreciate it if you could take some pictures of me at some of your favorite places and help me write a letter back to friends so they can share what I have been learning about on my journey with my their first grade classmates at Doherty Elementary in West Bloomfield, Michigan. My goal is to visit as many states and countries as I can by June 1, 2010.
You can help me by sending me on with the letter to one of your friends who you think might enjoy having me visit and be willing to show and tell me about where they live too. Thank you so much! I know this is going to be a journey of a lifetime. I cannot wait to share what I am learning with my friends.
Sincerely,
Felix
Please update the wiki or send any letters and photos to: Mrs. Hammerick, Doherty Elementary, 3575 Walnut Lake Road, West Bloomfield, MI 48322
Letters from Felix to the Class
Edit
Community content is available under
CC-BY-SA
unless otherwise noted.